And just like clockwork, the same day we published our jeremiad on Latinx, out comes this NPR story:
According to the story, only 3% of Hispanic Americans surveyed use the term Latinx to describe themselves. As we reported yesterday, most Chicanos (how's that for a flashback?) prefer Hispanic. But the true preference is to be called by their actual national origin (or their family's national origin): Mexican-American, Salvadoran-American, and so on. That is, when they refer to it at all.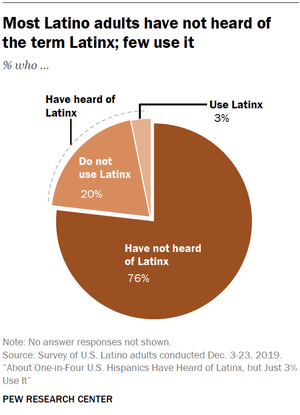 Why even have a catch-all term like Hispanic or, in my case, Asian? (Incidentally, both groups have historically been classified as White. More on that another time.) When uppity Euro-Americans call me out for being a "hyphenated American," I remind them I didn't ask to be distinguished by the national origins of my ancestors. If not for government forms or worrying if the Asian designation would deny my son admission to college, I might never have occasion to use the term. Wouldn't that be nice?
The NPR story also seems surprised Latinx hasn't caught on after 20 years. Considering the term was the province of academics, we are not the least bit shocked. The man and woman on the street doesn't care what advanced degree holders think, at least when it comes to language. The clunky, overthought attempt at inclusivity that is Latinx not only has no history, you can't spell it (some have tried LatinX) and you sure as heck can't say it.
— Otto E. Mezzo