A friend sent me this: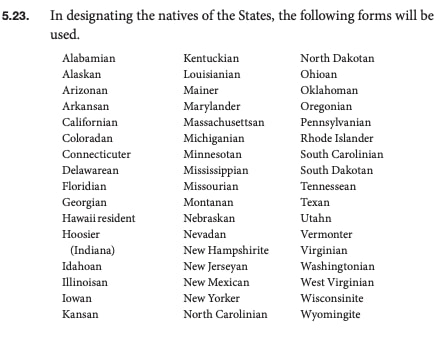 These are the official state demonyms according to the U.S. Government Publishing Office Style Manual. The government has a reputation for being inefficient, wasteful, and obstructionist. But orthographically incompetent?
My first question is why an Alaska resident is Alaskan but an Alabama denizen is Alabamian. Shouldn't it be Alabaman? Likewise Floridan?
At least they know what Florida residents call themselves (Floridian). That's more courtesy than Michiganders get, being assigned the clunky Michiganian as an adjective. But the real sin is "Hawaii resident"! Does that even count as a demonym? A million-and-a-half Hawaiians would disagree.
The one upside to this egregious abuse of state pride is it answers an important question, one we posed in our first demonym-themed article: What do you call someone from Connecticut? We're sorry we asked.
On Demonyms, Part 1
On Demonyms, Part II
On Demonyms, Part C
A Demonym diversion
Demonyms, the final words
Demonyms, one more final word