After our brief excursion into dotard, Lexicide makes good on our promise to dissect the Huns. And why not? Both Kim Jong Un and Attila trolled the reigning superpowers of the day (Attila with much more success) and viewed themselves as David to Goliath, enervating their opponents with endless impedance. Okay, I'll stop with the links.
The Huns were nomadic people who roamed the Eurasian steppes, a prairie-like grassland region that stretched all the way to China. The steppes are beautiful, but unforgiving – with few trees, the winds are brutal, and the lack of building material makes settlements impractical. What the steppes did confer on the Huns (and their eastern counterparts, the Mongols) is a toughness of spirit and a mastery of the arts of horsemanship and warfare.
Another thing the harsh steppe environment incubated in the Huns was a craving for a soft, cushy homeland. That's right, Attila and his merry band were highly motivated to invade Germany, Greece, and even Gaul because they wanted some living space that wasn't a bleak, foodless lawn as far as the eye could see. Of course, by occupying Germany, they displaced the Goths and Vandals, who in turn attacked the soft, not-very-tough (by this time) Romans, felling their empire.
So that's it, right? The Huns became the modern-day Germans, hence the Nazis as Huns. Er, not so schnell. What became of the Hunnic people is the subject of considerable debate, with quite a few ethnic groups (the Bulgars, the Magyars, the Chuvash, but notably not the Prussian Germans) claiming Hunnic ancestry. But it was Kaiser Wilhelm II who first drew the comparison of the Germans to the Huns. Speaking for Germany (a member of the Eight Nation Alliance) during the Boxer Rebellion, he warned: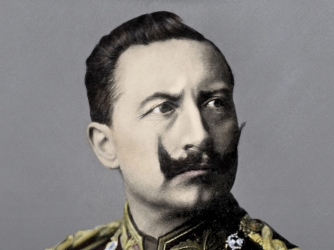 ---
"Just as a thousand years ago, the Huns under Attila won a reputation of might that lives on in legends, so may the name of Germany in China, such that no Chinaman will even again dare so much as to look askance at a German."
---
All righty then. Germans = Huns. You don't think this comparison will come back to bite the German nation, do you?
Jawohl. When the Great War began fourteen years later, it didn't take the Brits, French, and the Americans (who all stood by Germany against China as co-members of the Eight Nation Alliance) long to drag out the bloodthirsty Huns as an analog to the equally savage Germans. FDR and Churchill upped the ante during World War II, with the silver-tongued Prime Minister of Great Britain describing the German army as "the dull, drilled, docile brutish masses of the Hun soldiery, plodding on like a swarm of crawling locusts."
The Huns are always good for a scare, so maybe that's as Hitler wanted it. Except that his Aryan policy would have excluded this Mongolian-Turkic-Slavic people. Which just goes to show how complicated history – and ethnic slurs – can be.
— Otto E. Mezzo
References:
http://thehistoryofrome.typepad.com/the_history_of_rome/2012/03/index.html
https://en.wikipedia.org/wiki/Huns