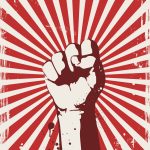 http://helpasocialistout.tumblr.com/
So how do you help a socialist out? [Insert jokes about nationalizing banks here.] For the record, a quick Google search turns up no other hits of socialist meaning one who uses social media. Except for two notable instances:
Socialist, a jQuery plugin that aggregates social media feeds
Socialist, a social media consulting firm based in… Moscow.
There's a word for that, and it isn't lexicide.